ECNL GIRLS Overview
MISSION: The Elite Clubs National League, Inc. ("ECNL") was founded in 2009 to enhance the developmental experience of the female youth soccer players in the United States through:
Improving the competitive environment through creation of a true national competitive league with multiple flights;
Improving the process for identifying elite female soccer players for the U.S. Soccer youth national teams through a systematic scouting and identification program based on national competitions; and
Improving the daily training environment at top female youth soccer clubs through developing best practices and training and organizational guidelines for its member clubs.
GOAL: The goal of the Elite Clubs National League is to change the landscape for elite female soccer players in the United States through innovative, player-centered programming and to enhance the overall experience by creating a better, more enjoyable, and more successful player, coach, and club development model.
ECNL Competition Platform
List of ECNL Showcase Events: Click Here
FC Pride ECNL Ohio Valley Conference Alignment: Click Here
ECNL & ECNL REGIONAL LEAGUE SCHEDULES
FC PRIDE ecnl girls teams 2022-2023
ECNL Teams
FC Pride U13 ECNL (2010)
FC Pride U14 ECNL (2009)
FC Pride U15 ECNL (2008)
FC Pride U16 ECNL (2007)
FC Pride U17 ECNL (2006)
FC Pride U18/U19 ECNL (2004/2005)
ECNL Regional League Teams
FC Pride U13 ECRL (2010)
FC Pride U14 ECRL (2009)
FC Pride U15 ECRL (2008)
FC Pride U16 ECRL (2007)
FC Pride U17 ECRL (2006)
FC Pride U18/U19 ECRL (2004/2005)
Frequently Asked Questions
2016 was FC Pride's Inaugural season in the ECNL.
The Pre-ECNL is a format provided for the U10-U12 teams - they play a more localized schedule against our ECNL Conference opponents.  The also play two crossover events against the teams they do not play in league play.
Coaching fees, training fees, winter training, Game Video, US Club Soccer player registration and carding, insurance, showcase fees, tournament fees, referee fees, fees for on-site trainer for ECNL games.
Yes, there are no high school restrictions.
Yes. FC Pride offers a high school alternative program for players who want to play and train with the club in the fall.
Our conference is split into two divisions.  The East includes FC Pride, Racing Louisville, Indiana Fire Juniors, Ohio Elite, FC Alliance, and Tennessee Soccer Club.  We will play those opponents home and away.
The West includes Ohio Premier, Internationals, WNY Flash, Pittsburgh Rivershounds, Cleveland Force and Kings Hammer.  We play the West opponents home OR away.
Including 2 to 3 additional showcases
The Regional League team is a second ECNL team that travels to all of the same weekends as the other ECNL teams. These players experience the same exposure and play the other clubs in their conference. This team is a great avenue for players to break into the top ECNL team in the age group. These players have the same practice schedule as all other ECNL teams. 
Competition Weekend - 3 times a week
Non-competition weekend - 4 times a week
Yes, FC Pride has a dedicated ECNL Goalkeeper coach for ECNL teams and a specialized training session for goalkeepers
ECNL players will have the ECNL logo on their game uniforms
The deposit fee is $300. This amount is standard club-wide for all athletes, not just for the ECNL. The deposit is paid at tryouts.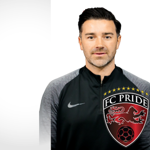 JAMIE GILBERT
ECNL GIRLS DIRECTOR AND EXECUTIVE DIRECTOR OF COACHING
Jamie Gilbert is in his 13th year with FC Pride.  He started as a Staff Coach and within a year became the Senior Girls Director.  Two years later Gilbert was named Girls Director of Coaching, and July 2015 became the Executive Director of Coaching for FC Pride.
To see his full bio, please visit our Leadership page.