U8 - 4v4
$ 350
Participation prize for all players
U9-10 - 7v7
$ 650
Awards given to 1st and 2nd Place teams.
U11-12 - 9v9
$ 750
Awards given to 1st and 2nd Place teams.
U13-19 - 11v11
$ 795
Awards given to 1st and 2nd Place teams.
lawrence soccer complex
5301 North Franklin Rd • Indianapolis, IN 46226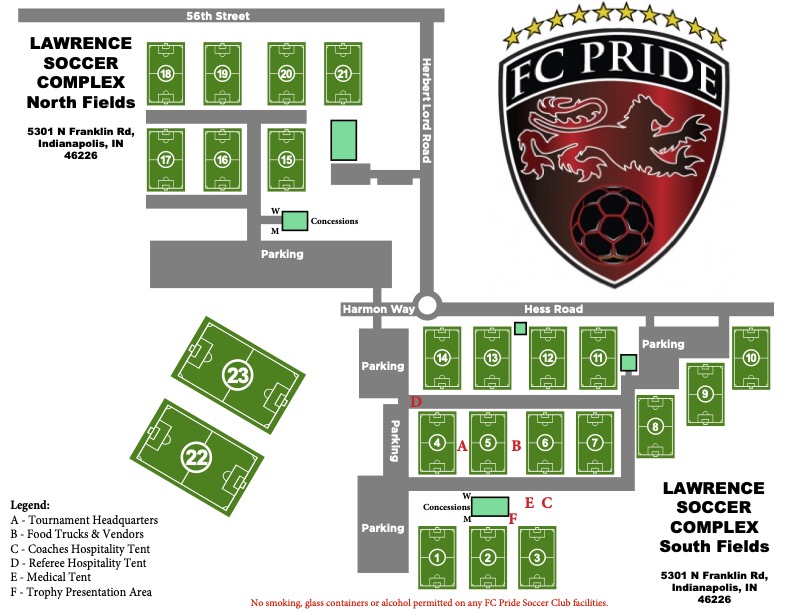 FC PRIDE TURF STADIUM
11960 East 62nd Street • Indianapolis, IN 46235
OFFICIAL FC PRIDE RED LION INVITATIONAL GEAR

Payment is made upon check out through registration. (there is a 4% CC fee for Credit card transactions)
If you are mailing a check, please send it to 9801 Fall Creek Road #409, Indianapolis, IN 46256. It can be made out to FC Pride Soccer Club. Payment needs to be received by April 1.
Team Check-in
DETAILED INSTRUCTIONS CLICK HERE
ACKNOWLEDGEMENT FORM CLICK HERE - Download form and complete
**Download from google docs and upload to gotsport account.
All Teams (U8-U19), must complete team check-in online prior to Friday April 7th at 12:00 noon EST. 
All documents can be uploaded in gotsport team account 
One team representative must complete check-in providing the following  documents:
Permission to Travel (not required from teams registered with IYSA or US Club Soccer)
Player/Coach Pass Cards
Approved/Certified Roster from your State/National Association
Tournament acknowledgement form (see link above)
The following items must be present at every game:
Player, Coaches and Managers cards 
Official state approved roster
Medical releases for every player (We do not have a tournament specific medical release. The one your state requires is fine.)
Red Lion Guest Players or Club Pass Players
If you wish to have guest players or club pass players, please have the manager hand write in the guest player's name on the bottom of your team's state approved roster, prior to submitting the roster to the tournament. The manager will also need to upload the guest players player card. The players player card and medical release must be present at every game.  Players can be 'double rostered' and play for more than one team in the tournament so long as the teams are not in the same age group flight.
We have partnered with PYB Sports to assist with the hotel selection and reservation process.  We thank you in advance for booking your reservations through PYB Sports and supporting our local hotel partners.  This is a stay and play event with a 1 week cancellation (unless otherwise noted by hotel). Please click on the link below for a list of properties, amenities, rates and other information. All teams requiring hotel accommodations are required to book rooms through PYB Sports. Using this service ensures that room demands can be met from year to year and allows PYB to offer the added protection of "no hotel cancellation fees" in the event that the tournament is cancelled in its entirety prior to check-in, by tournament officials due to severe weather.
PYB Sports is an accredited travel agency that specializes in hotel accommodations for youth sports teams.  They are ready and available to provide information on any of our partner hotels and offer a streamlined reservation process for ease and efficiency.  If you do not see a hotel on our list that appeals to your team, use the hotel request link at the top of the hotel page to contact PYB and they will assist in securing rooms at other hotels in the area. 
Please complete the following document with any coaching conflicts you have for the upcoming event. Please have these in before April 1st and we will do our best to help.
Click Here - Coaching Conflicts Document
GOTSPORT SOFTWARE

The FC Pride Red Lion Invitational is managed by the GotSport tournament software. 
PLACEMENT

All Teams will be placed in appropriate levels based on previous performance in State Cup and selected tournaments, plus Got Soccer rankings. For specific details please see the registration page.  You will be offered the opportunity to request your division of play on the application form.
INDIANAPOLIS

Our fields are only 20 minutes from Downtown Indianapolis and we offer easy access to many hotels and other attractions.
OFFICIALS

Our goal is for you to remember the play and not the officials. Our promise is that all games will have appropriately aged and experienced officials for every match.
Thank you to all our tournament sponsors who help make our event a success!