U8 - 4v4
$ 300
Awards given to 1st and 2nd Place teams.
U9-10 - 7v7
$ 595
Awards given to 1st and 2nd Place teams.
U11-12 - 9v9
$ 695
Awards given to 1st and 2nd Place teams.
U13-19 - 11v11
$ 795
Awards given to 1st and 2nd Place teams.
lawrence soccer complex
5301 North Franklin Rd • Indianapolis, IN 46226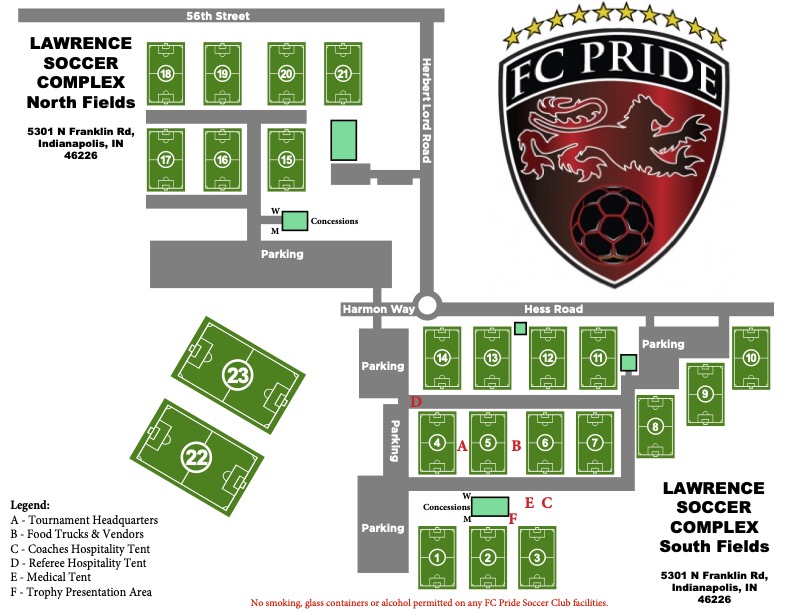 This error message is only visible to WordPress admins
Error: Access Token is not valid or has expired. Feed will not update.
All Teams, must complete team check-in online on gotsport prior to Tuesday September 20th at 12:00 noon EST. 
All U8 teams to receive participation medals must send a team representative to come to tournament headquarters located at the east entrance into the concession stand on the south fields, (look for the headquarters flag), during the day Saturday or Sunday 8am-4pm to pick up medals from HQ. If medals are not picked up we will not ship them. 
One team representative must complete check-in providing the following documents:
Permission to Travel (not required from teams registered with IYSA or US Club Soccer)
Player/Coach Pass Cards 
Approved/Certified Roster from your State/National Association
The following items must be present at every game:
Player, Coaches and Managers cards 
Official state approved roster
Medical releases for every player (We do not have a tournament specific medical release. Just the one your state requires is fine.)
For questions, please contact: Dean at admin@fcpride.org
We have partnered with PYB Sports to assist with the hotel selection and reservation process.  We thank you in advance for booking your reservations through PYB Sports and supporting our local hotel partners.  Please click on the link below for a list of properties, amenities, rates and other information. All teams requiring hotel accommodations are required to book rooms through PYB Sports. Using this service ensures that room demands can be met from year to year and allows PYB to offer the added protection of "no hotel cancellation fees" in the event that the tournament is cancelled in its entirety prior to check-in, by tournament officials due to severe weather.
PYB Sports is an accredited travel agency that specializes in hotel accommodations for youth sports teams.  They are ready and available to provide information on any of our partner hotels and offer a streamlined reservation process for ease and efficiency.  If you do not see a hotel on our list that appeals to your team, use the hotel request link at the top of the hotel page to contact PYB and they will assist in securing rooms at other hotels in the area.  
This tournament is unrestricted. Teams registered in good standing with any U.S. Soccer Federation affiliate are eligible to apply under the USSF Bylaw 603.
CERTIFICATE OF EVENT INSURANCE
If you wish to have guest players or club pass players, please have the manager hand write in the guest player's name on the bottom of your team's state approved roster, prior to submitting the roster to the tournament. The manager will also need to upload the guest players player card to the SportsEngine online team check-in. The players player card and medical release must be present at every game.  Players can be 'double rostered' and play for more than one team in the tournament so long as the teams are not in the same age group flight.
As we prepare to host the 2022 FC Pride Red Lion please find below the signup link to volunteer throughout the weekend (April 22-April 24). You may sign family members up including your older children if they are not playing (Board of Health prohibits children to work in the concession stand, also an adult is required to operate the golf cart). Please remember scholarship players must complete a given number of service hours to fulfill their scholarship. If you have someone working toward your hours please note the player's name in the memo field on the sign up sheet or let us know when you check-in for your shift. Choose your time slots as soon as possible so you get your preferred placement. We couldn't host this great event without your help! Thank you so much for volunteering!
The sign up link to volunteer is - CLICK HERE!
Questions: Contact Dean at admin@fcpride.org
To sign up to ref the FC Pride Cup contact the referee assignors: 
Tony DeLois and Steve Pardieck
Tony DeLois
Tony_delois@outlook.com
(317) 590-7716
Steve Pardieck
stevepardieck@fcpride.org
GOT SOCCER RANKINGS

The FC Pride Cup is managed by the GOTSPORT tournament software.
PLACEMENT

All Teams will be placed in appropriate levels based on previous performance in State Cup and selected tournaments, plus Got Soccer rankings. For specific details please see the registration page.  You will be offered the opportunity to request your division of play on the application form.
OFFICIALS

Our goal is for you to remember the play and not the officials. Our promise is that all games will have appropriately aged and experienced officials for every match.
Thank you to all our tournament sponsors who help make our event a success!