WPSL Mission Statement
The WPSL Program at FC Pride is designed to create a developmental bridge between club and college soccer.  By providing the WPSL platform for our players, we are able to help prepare players for the college season physically, psychologically, technically and tactically.  The WPSL experience has proved to be an important developmental opportunity for players as they progress to the next level in their soccer careers.
Link to WPSL page: Click Here
Link to our Schedule & Standings: Click Here
All games will be live streamed & links will be posted on social media, when available
field
FC Pride Turf Stadium
11960 E. 62nd Street Indianapolis, IN 46235
Tryouts - Closed
May 13th 2023 - 5PM - Click here to Register
Location - FC Pride Turf Stadium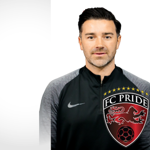 JAMIE GILBERT
WPSL HEAD COACH
Jamie Gilbert is in his 13th year with FC Pride.  He started as a Staff Coach and within a year became the Senior Girls Director.  Two years later Gilbert was named Girls Director of Coaching, and July 2015 became the Executive Director of Coaching for FC Pride.
To see his full bio, please visit our Leadership page.
WPSL HONORS
WPSL Players to Pro
Elise Kotsakis - Afturelding
Stasia Mallin - FC BIIK
Danielle Hayden - Rayo Vallecano
Miyah Watford - IBV
Allison Abbe - AIK
Sam Dewey - Real Betis
Gabby Vincent - Utah Royals
FC Pride WPSL Captains
2021/2022 - Emily Speidel
2021/2022 - Adele Stradling
2017 - Brenna Pawelkowski
2017 - Jessica Miller
2016/2017 - Cori Cain
2016 - Brenna Pawelkowski
FC Pride WPSL All-Stars
2022 - Lizzie Chlystun
2022 - Elizabeth Hargis *Defensive Player of the Year*
2022 - Cassidy Eckstein
2022 - Paige Miller
2021 - Allison Abbe
2021 - Miyah Watford
2021 - Addie Chester
2017 - Sam Dewey
2017 - Caroline Dreher
2017 - Gaby Vincent
2017 - Cori Cain
2017 - Tori Doss
2016 - Brenna Pawelkowski
2016 - Sam Dewey
2016 - Katie Peters
2015 - Leah Mattingly
2015 - Lizzie Rittenhouse
2015 - Chelsy Swackhamer
2015 - Emma Crenshaw
2014 - Kayley Jones
2014 - Sophia Maccagnone
2014 - Elise Kotsakis
2014 - Hannah Miller