Recreational Soccer Leagues for boys and girls ages 4-18 years old.
Our goal is to create a fun environment that is competitive and allows everyone to learn about the game and life lessons.
Ages: 4 - 18 boys and girls.
Divisions: 
REC:
PreK/K Boys, PreK/K Girls, 1/2 Grade Boys, 1/2 Grade Girls, 3/4 Grade Boys, 3/4 Grade Girls
REC Plus:
5/6 Grade Boys, 5/6 Grade Girls, 7/8 Grade Boys, 7/8 Grade Girls, 8/9/10 Grade Girls, High School Coed
Cost: $115 for PreK - 3/4 Grade
$140 for 5/6 Grade - High School Coed
Start Date: Practices start week of April 3, 2023
Game Dates: Games start on April 8 and the last weekend of games is June 3rd. No games on Memorial Day Weekend.
Dicks Sporting Goods Pride Appreciation day - Coupon Below
QUESTIONS? Contact Holly Coulter -  holly@fcpride.org
Need Assistance in Fees?
Please visit this website to see if you qualify for assistance, https://everykidsports.org/
FAQ Support Portal:  https://help.everykidsports.org/hc/en-us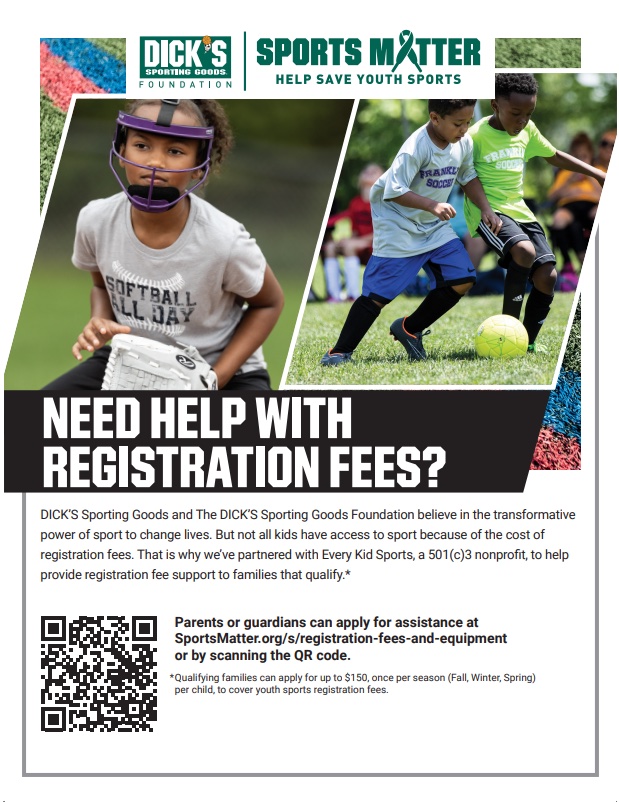 FC Pride

20% OFF - APPRECIATION WEEKEND

March 31 – April 3, 2023 (FRIDAY – MONDAY)
STORE LOCATION: Castleton

Save the date! Our partner, DICK'S Sporting Goods, is offering you a 20% off discount throughout the store to help you gear up for the season! Be sure to use the coupon linked below, as this is specific to our organization. The coupon is valid in-store on the dates above, and should be shown at the register during checkout.